Spending the night in a glamping in Salento, enjoying one of the best coffees in the world, and visiting one of the most beautiful towns in Colombia, is something you can't miss if you see the coffee axis. This article will show you four glamping around Salento that you should consider for your stay in this beautiful area.
---
---
Map of glampings in Salento
---
1. Montana Glamping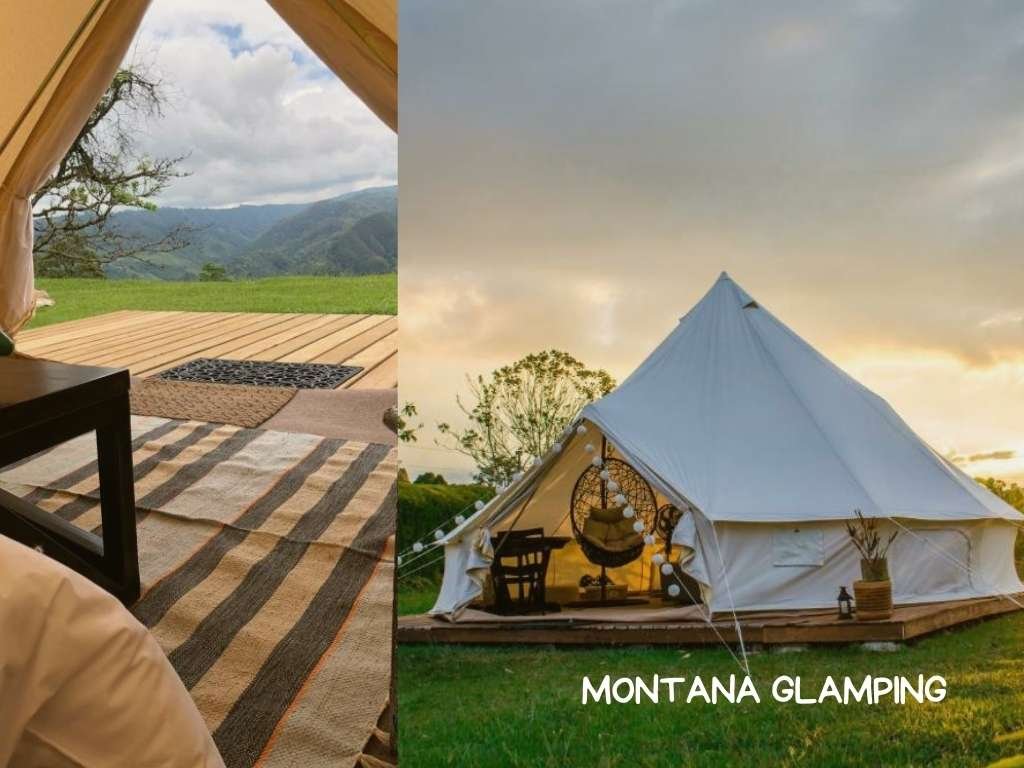 Montana Glamping, located 1.6 km from Salento, is a place where you can relax and enjoy incredible sunsets while watching the surrounding nature.
Among its lodging options, you can choose between 3 different types of glamping (Tent, Junior Suite, Deluxe double room) and a house with a private area that includes two bedrooms, a kitchen, a jacuzzi, and much more.
Lodging prices at Montana glamping
The prices of your glamping lodging services are as follows:
(Tent or deluxe tent) from COP 327,730 per night.
(Junior Suite or Deluxe Suite Tent) from COP 431.260 per night.
(Deluxe Double Room or Montana Bubble) from COP 931,500 per night.
(Deluxe Villa or Deluxe Glamping House) from COP 1.035.000 per night.
All the prices described above vary depending on the year's season, are for two people, and include a breakfast buffet.
You can find more information about this place and book your glamping here.
---
2. HakunaMatata glamping Pumba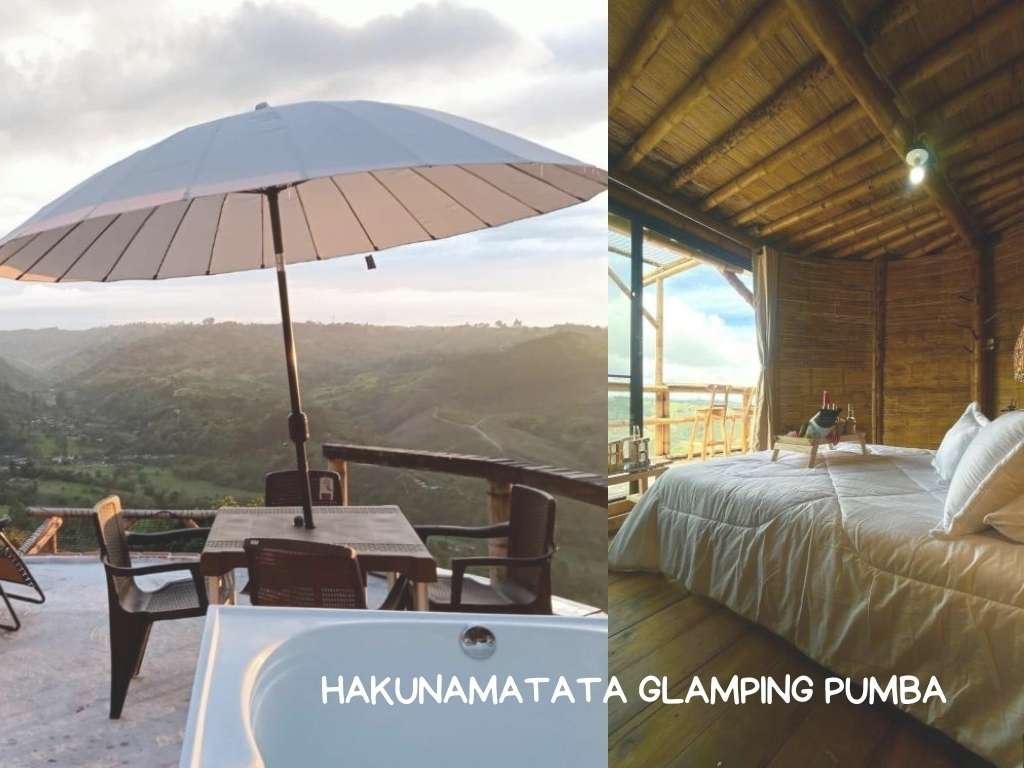 Another of the most representative glamping in Salento is the popular HakunaMatata glamping Pumba. It is located approximately 2.1 km from the town and is a great option to spend the night in the middle of nature.
This glamping in Salento offers its guests a spectacular view of the mountains and the surrounding nature. Its facilities are cozy, have a terrace, private bathroom, and jacuzzi.
Prices for lodging in HakunaMatata glamping Pumba
From COP 175.000 per night for one person.
From COP 250.000 per night for two people.
These prices vary depending on the season and do not include breakfast.
Reservations can be made without a credit card, and cancellations are free of charge. Make your reservation here.
---
3. Glamping Rustiko
If you are looking for a place to disconnect from everyday life, Glamping Rustiko is without a doubt, an excellent option. This glamping in Salento offers its visitors a breathtaking view of nature that you can enjoy from the balcony or from your bed.
Its glamping has a balcony, private bathroom, and rest furniture, including breakfast service. Rustiko glamping is located approximately 6.5 km from Salento.
Lodging prices in Rustiko glamping
Prices per night at Glamping Rustiko may vary depending on the season.
From COP 250.000 per night for two people.
If you want to book this place, we recommend you to do it in advance as it tends to fill up very quickly. Book through Booking here.
---
4. Glamping Lumbre
Located approximately 7.4 km from Salento, glamping lumbre is one of the best in the region due to its proximity to the Cocora Valley and its wax palm forest.
This place offers six types of lodging, with a magnificent view from the rooms that allows you to experience a luxurious environment that is very well integrated with the surrounding nature.
Cost of lodging in Glamping Lumbre
From COP 697.300 per night for one person up to COP 854.000 for four people.
You can check more information and make your reservation here.
You may also be interested in: